Ricoh next generation Direct to Garment technology offers productivity breakthrough
Ricoh next generation Direct to Garment technology offers productivity breakthrough
London/Wallisellen, 16 September 2020 – Ricoh is responding to the needs of the modern garment decorator for heightened productivity, best-in-class operation and ease of use with the launch of the Ricoh Ri 2000 Direct to Garment (DTG) printer. The next generation system supports the production of promotional and personalised goods locally.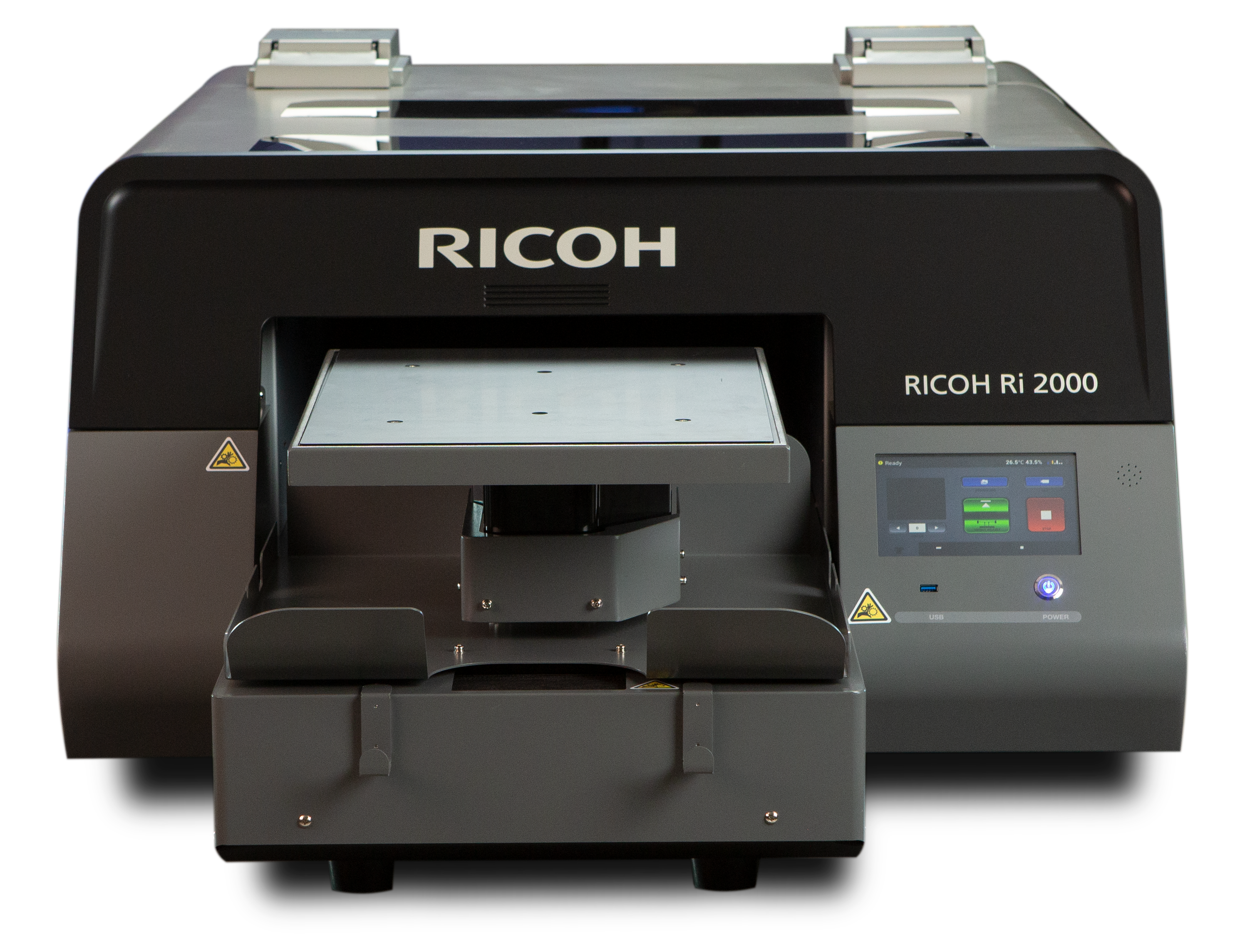 The Ricoh Ri 2000 prints 1200 x 1200 dpi resolution on a wide range of garments, from traditional t-shirts or tote bags to an extended application range of canvas shoes, baseball caps or long sleeve shirts. It also supports the production of textile face masks and safety vests via the flexibility of the quick-change magnetic platen mechanism and the automatic table height adjustment that easily switches between garment types.
"The new generation of DTG printer represents Ricoh's continued commitment to deliver industry leading inkjet solutions, empowering our customers to grow their business," said Graham Kennedy, Director Industrial Printing, Ricoh Europe. "Working closely with early adopters in the continuously growing DTG market during product development, Ricoh customers can now enjoy the benefits of a DTG turnkey solution. The Ri 2000 meets the needs of innovative digital print providers, custom apparel online retailers, as well as traditional businesses offering added value by printing on garments. It joins Ricoh's DTG portfolio that already includes the Ri 100 and Ri 1000 devices as the production flagship."
The Ri 2000 sets a new benchmark in terms of productivity and efficiency in its class. This is achieved by integrating hardware and advanced software end-to-end.
Enabling colour consistency, automation of production workflows and creation of white layers for printing on dark garments with ColorGATE's Textile Productionserver.
Continuously monitoring ink supply, temperature and humidity levels, reducing human interaction whenever required. 
Intuitively guiding the operator with a 7-inch colour touchscreen display providing maintenance alerts, for all tasks that are not automated.
Simplifying maintenance with automated cleaning and an innovative head cleaning jig that eliminates the need to manually maintain print head nozzles. 
The Ricoh Ri 2000 will be available in EMEA from November. To see it live, book your (virtual) demo through your local Ricoh representative.
| About Ricoh Direct to Garment Printing | 
Since 2016, Ricoh has been developing DTG solutions for every budget and skill level, including the award-winning RICOH Ri 100 all-in-one DTG system and the RICOH Ri 1000, winner of multiple awards, including the SGIA 2019 Product of the Year award for "Direct-to-Garment Printers (category black shirt)." Committed to its customers' success, Ricoh continues to set the bar in the DTG industry by creating innovative products that are reliable, easy to operate, and profitable for users.
|About Ricoh|
Ricoh is a leading provider of integrated digital services and print and imaging solutions designed to support digital transformation of workplaces, workspaces and optimize business performance.
Headquartered in Tokyo, Ricoh's global operation reaches customers in approximately 200 countries and regions, supported by cultivated knowledge, technologies, and organizational capabilities nurtured over its 85-year history. In the financial year ended March 2023, Ricoh Group had worldwide sales of 2,134 billion yen (approx. 16.0 billion USD).
It is Ricoh's mission and vision to empower individuals to find Fulfillment through Work by understanding and transforming how people work so we can unleash their potential and creativity to realize a sustainable future. 
For further press information, please contact: Ricoh Switzerland Ltd.
Tamara Martelli
Regional Communications Manager
Hertistrasse 2
8304 Wallisellen
Phone: +41 44 832 31 89
E-mail: tamara.martelli@ricoh.ch
Website: www.ricoh.ch/en
Join us on Facebook: www.facebook.com/ricohschweiz
Join us on LinkedIn: www.linkedin.com/company/ricoh-schweiz-ag
Follow us on X: https://x.com/ricohschweiz