Ricoh Named a Leader in IDC MarketScape Assessment of Worldwide High Speed Inkjet Press Vendors
Partnering with clients on their successes and delivering support and services beyond the press were cited as key drivers of the company's leadership position in the production inkjet market 
Ricoh, London/Wallisellen, June 13, 2023 
–
Ricoh Europe
today announced that a new IDC MarketScape report named Ricoh as a worldwide leader in high speed inkjet solutions that are driving growth in the digital production printing market.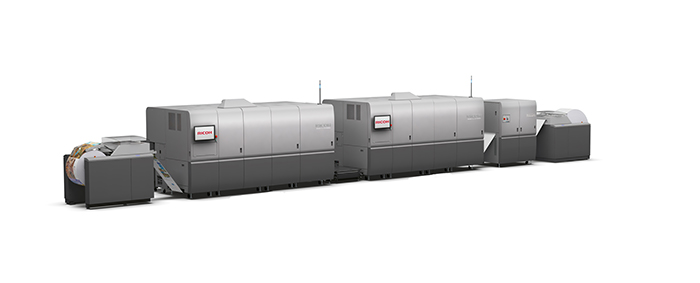 "In today's rapidly evolving market, shorter average run lengths, increasing demand for personalised and variable data capabilities, and constraints on labour and paper availability are changing the production print landscape," said Eef De Ridder, Vice President, Graphic Communications Group, Ricoh Europe. "Print service providers (PSPs) are increasingly investing in digital printing technologies, with high speed inkjet solutions offering the productivity, print quality, and automation necessary to convert jobs over from conventional technologies with faster turnaround times and less operator intervention. Our approach at Ricoh is to deliver the production capabilities our clients need to go digital while surrounding each one with world class software, service, and support that will drive their business forward." 
The report, "IDC MarketScape: Worldwide High-Speed Inkjet Press 2023 Vendor Assessment,"1 analyses Ricoh's technological capabilities, product roadmap and R&D strategy, and support and services against the market and client needs to conclude that 'all print [service providers] considering an investment in high speed inkjet should put Ricoh on their vendor list'.
"Ricoh has a strong and growing portfolio that addresses the high speed, high quality needs of the commercial print market," said Tim Greene, Research Director at IDC. "One of the areas the company stands out is in support for customers before the sale, at installation, and for as long as necessary for customers to be successful. From its software-as-a-service offerings, to strategic business consulting, to 24x7 mission critical support, Ricoh brings a sense of partnership to its customers."
Putting the Customer First
The report cites the company's 'combination of image quality, speed, and support' as the key characteristics of Ricoh high speed inkjet press systems. It also names, as a strength, its use of a 'platform approach' that protects client investments by making updates in speed, print quality, and automation available as field upgrades across its installed base. 
Advances in platform capabilities are driven by clients, which is anchored in Ricoh's longstanding reputation for partnering with clients on their growth and success. The report notes that the company's responsiveness to client feedback through its R&D investments has yielded significant advance with direct market relevance. This is on display with the UC8100 Undercoat Unit, which has helped users greatly expand the range of media that can be used to produce saleable product and therefore better navigate recent paper supply chain challenges. 
Ricoh was also recognised for this client centric product development when the RICOH ProTM Z75 digital sheetfed press won this year's iF DESIGN AWARD 2023 in the 'Product' category. Clients were central to the development of the Pro Z75, which is a new B2 inkjet platform, engineered from the ground up hand in hand with Print Service Providers (PSPs) based on their current and future real world needs.
Beyond the Press: Software and Services
Ricoh continues to invest heavily in building and partnering with industry suppliers to create an end to end ecosystem to deliver value for clients across all aspects of buying, running, and maintaining a high speed inkjet press. This includes a commitment to education and support resources to equip PSPs to maximise their investment as soon as possible. The report noted that 'Ricoh offers extensive training and business development support that matches or surpasses any other vendor'.
With its vendor agnostic approach to software, the company offers production management and print operations solutions like RICOH TotalFlow Production Manager and RICOH Supervisor to automate and simplify production on the production floor, while converting operational data into useful information to steer decision making. Strategic partnerships with third parties create an extensive ecosystem of software tools that span the entire production process.
1"IDC MarketScape: Worldwide High-Speed Inkjet Press 2023 Vendor Assessment", doc #US50450723, April 2023.
|About Ricoh|
Ricoh is a leading provider of integrated digital services and print and imaging solutions designed to support digital transformation of workplaces, workspaces and optimize business performance.
Headquartered in Tokyo, Ricoh's global operation reaches customers in approximately 200 countries and regions, supported by cultivated knowledge, technologies, and organizational capabilities nurtured over its 85-year history. In the financial year ended March 2023, Ricoh Group had worldwide sales of 2,134 billion yen (approx. 16.0 billion USD).
It is Ricoh's mission and vision to empower individuals to find Fulfillment through Work by understanding and transforming how people work so we can unleash their potential and creativity to realize a sustainable future. 
For further press information, please contact: Ricoh Switzerland Ltd.
Tamara Martelli
Regional Communications Manager
Hertistrasse 2
8304 Wallisellen
Phone: +41 44 832 31 89
E-mail: tamara.martelli@ricoh.ch
Website: www.ricoh.ch/en
Join us on Facebook: www.facebook.com/ricohschweiz
Join us on LinkedIn: www.linkedin.com/company/ricoh-schweiz-ag
Follow us on X: https://x.com/ricohschweiz