EDP Award endorses Ricoh Pro™ L5130e and Ricoh Pro™ L5160e extended gamut latex large format printers
Large format systems deliver enhanced quality, productivity, and sustainability
Ricoh Europe, London, 01 February 2022 – Ricoh is again celebrating EDP's prestigious endorsement as the Ricoh Pro L5130e and Ricoh Pro L5160e extended gamut latex printers have won the EDP 2021 Roll-to-roll Printers > 330cm Award.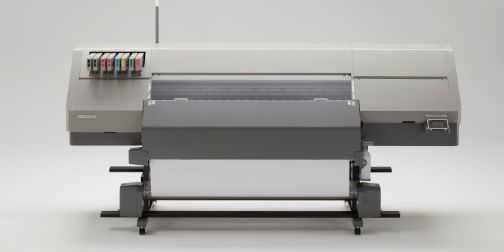 The EDP Awards highlight key developments in print production tools, software, substrates, inks, materials and finishing systems. The association focuses on ways to promote industry innovation and unite forward thinking operations with technology that enhances their business and enables them to focus on growth.
Based on Ricoh's market leading inkjet head and ink technology competence, the systems are an evolution of the successful Ricoh Pro™ L5130 and Ricoh Pro™ L5160 latex large format printers. 
They opened up new opportunities to production printers, and sign and display specialists with the addition of green and orange inks to the already available white. The development:


Significantly extended the colour gamut compared to existing marketplace ink technology. 
Enabled the accurate reproduction of a wider range of Pantone and brand colours. 
Helped reduce ink consumption, for example there is no need to mix magenta and yellow to create orange, or cyan and yellow to create green. 
Allowed print operations to run double CMYK for increased productivity and CMYK and White for transfer materials, metallics, and dark substrates.


The systems incorporate three staggered Ricoh GEN5 industrial print heads. They deliver variable dot printing at 46.7sqm per hour on outdoor high speed four colour mode and 25sqm per hour on indoor standard four colour mode. They employ a low print ink curing temperature for reduced energy consumption while the Greenguard certified latex ink enables sustainable and cost-effective production. 
Efficient operation is supported by market leading RIP-software solution ColorGATE Productionserver that is tailored to the demands of large format printing. 
Eef de Ridder, Vice President, Graphic Communications Group, Ricoh Europe, says: "It's no secret that quick and simple accurate reproduction of vibrant colours helps deliver captivating print. These systems enable operations to produce memorable and vivid results on a broad range of applications. Their ability to reduce waste, ink, and energy consumption also supports sustainable and cost effective production. These are among the many reasons the technology was effectively used to create signage and social distancing applications during the pandemic."