Application versatility to highlight inkjet production flexibility at Hunkeler Innovationdays
Visitors' passion for print will be fired up by vibrant, high quality direct mail, magazines, brochures, and posters
Ricoh, London/Wallisellen, February 21, 2023 – Visitors to Ricoh's stand will witness colours that pop, fine gradients, and sharp text via Ricoh's industry leading inkjet technology at Hunkeler Innovationdays 2023, Messe Luzern, February 27 to March 2.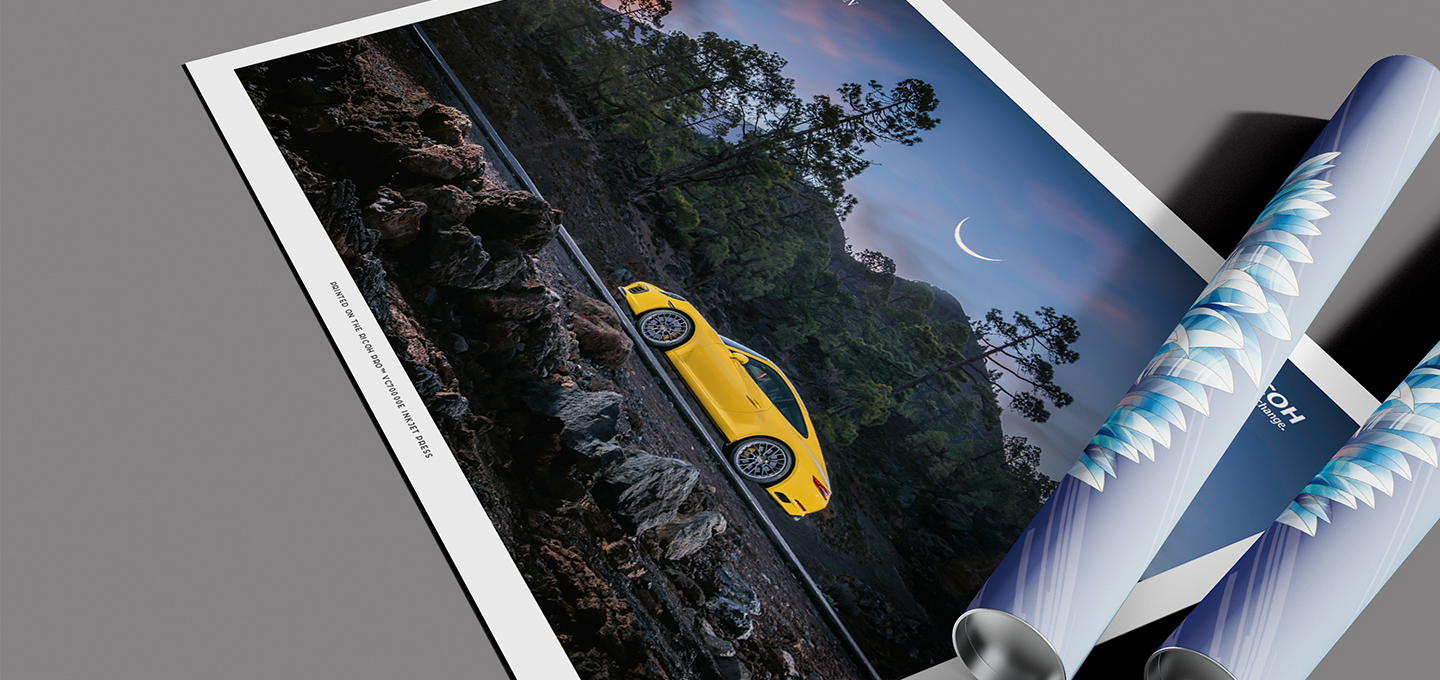 Printed live on the stand will be poster images of prestigious cars including Bentleys, Rolls Royces, and Porsches, taken by renowned automotive photographer James Lipman. They will be produced on Burgo EVO Next Satin by the new Pro VC70000e taking its public bow at the show. 
Other applications that can be seen on the Ricoh stand produced using Pro™ VC70000 Series technology will include: 
A 32pp fashion magazine Colour Creative on Fedrigoni Freelife Symbol Gloss showcasing high quality image and rich colour reproduction.
A 24pp wedding photobook on UPM Digital Finesse Premium recreating fine detail to accurately capture precious moments.
A 94pp Cult of Porsche coffee table book replicating exceptionally beautiful shots of the high performance car marque on Arctic G-Print Smooth 250gsm and 200gsm for the cover and text pages respectively. 
Sander Sondaal, Director Commercial Print Sales, Graphic Communications, Ricoh Europe, says: "Competitive commercial printers need to be sure they can say yes to as many jobs as possible, regardless of application choice, run length or content variation. Ricoh's inkjet portfolio is able to manage these fundamental operational needs while delivering high quality text and image results that produce captivating print and demand attention. Trusting the quality is consistently repeatable is also fundamental to confident service expansion. 
"At Hunkeler Innovationdays, visitors will also see some stunning examples of what the forthcoming ProTM Z75 B2 sheetfed press, also known as the dragon, can produce as well as a saddle-stitched booklet showing the versatility and quality of the compact, mono ProTM V20100. There will also be some inspiring toner based samples derived from our flagship colour sheetfed press, the award-winning ProTM C9200."
To meet with a Ricoh continuous feed specialist please visit https://www.ricoh-europe.com/campaigns/hid23.
|About Ricoh|
Ricoh is a leading provider of integrated digital services and print and imaging solutions designed to support digital transformation of workplaces, workspaces and optimize business performance.
Headquartered in Tokyo, Ricoh's global operation reaches customers in approximately 200 countries and regions, supported by cultivated knowledge, technologies, and organizational capabilities nurtured over its 85-year history. In the financial year ended March 2023, Ricoh Group had worldwide sales of 2,134 billion yen (approx. 16.0 billion USD).
It is Ricoh's mission and vision to empower individuals to find Fulfillment through Work by understanding and transforming how people work so we can unleash their potential and creativity to realize a sustainable future. 
For further press information, please contact: Ricoh Switzerland Ltd.
Tamara Martelli
Regional Communications Manager
Hertistrasse 2
8304 Wallisellen
Phone: +41 44 832 31 89
E-mail: tamara.martelli@ricoh.ch
Website: www.ricoh.ch/en
Join us on Facebook: www.facebook.com/ricohschweiz
Join us on LinkedIn: www.linkedin.com/company/ricoh-schweiz-ag
Follow us on X: https://x.com/ricohschweiz