Inspiring a Dispersed Digital Workforce
Driving a digital future for the mid-market
Leading the digital transformation charge wasn't a core part of a HR role until COVID-19 struck. Now, HR leaders are firmly in the driving seat. The pandemic has highlighted that the right technology is vital for maintaining employee morale and productivity - and the quality of the workforce can make or break a business.

HR leaders need to help solve employees' poor tech experience. Doing so is essential for building a positive company culture, retaining the best people and attracting new talent.

This new report by Ricoh Europe, with research conducted by Opinium Research, explores employees' remote working experience during the pandemic. It identifies the key trends impacting mid-market business operations and obstacles blocking the path to success. It also offers guidance for HR leaders striving to meet employees' growing expectations of a flexible, people-centric working experience.



---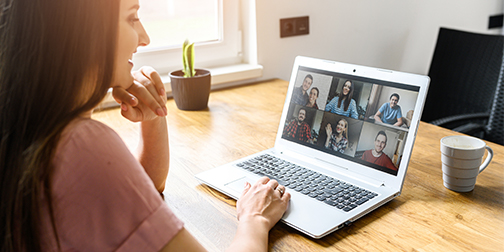 In mid-size businesses, company culture is bearing the brunt of a sub-standard technology experience. Remote working challenges are wearing down workplace camaraderie and employee motivation - risking workforce productivity and morale in the long-term. 
HR leaders face the task of creating a supportive, digital-driven company culture that works for everyone. 42% of employees report their company culture has suffered due to COVID-19 restrictions, and a third (31%) often feel unmotivated while working remotely due to technology and communication issues. This makes it difficult for organisations to draw in new talent and retain staff - risking success and growth in the long-term.  
Disengaged employees are a sign that the working experience isn't working. Companies need to focus on bringing people together in new ways, whether they're at home or in the office. Creating flexible, tech-forward working environments and a positive culture will go a long way towards this goal.