Future of print
---
Printing has traditionally been thought of as just the white box in the corner of the office. That perception is changing rapidly as printing technologies evolve to become a core component of the manufacturing and production processes. In healthcare, pharmaceutical companies are manufacturing 3D printed prosthetic limbs tailored to specific patients. In retail, vendors are manufacturing shoes and printing designs on demand, reducing stock wastage. In education, students can buy personalised textbooks, reducing cost and improving learning.
A new study from Ricoh Europe, conducted by Coleman Parkes, examines how new and emerging printing technologies are helping to reshape industries and open up opportunities for businesses across the continent.
The survey was conducted in May 2018 and consisted of 3,150 respondents from businesses of all sizes based in Austria, Belgium, Luxembourg, Czech Republic, Denmark, Finland, France, Germany, Hungary, Italy, the Netherlands, Norway, Poland, Portugal, Russia, Slovakia, South Africa, Spain, Sweden, Switzerland, Turkey, the UK and Ireland.
---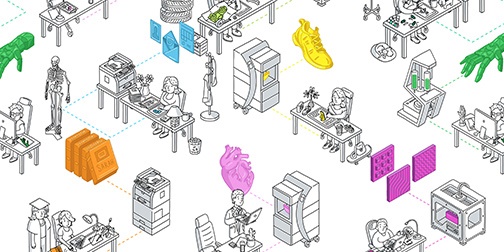 Business leaders must rethink the role of printing within their organisation. With 69% believing print will unlock vital revenue and 67% using it to provide competitive differentiation, printing has fundamentally moved from the back office to the boardroom. 
New printing capabilities are providing the foundations for strategic agility and innovation improvements. 39% have adopted new printing technologies to enable AI and automation.
---
The majority of healthcare experts are using new printing technologies to help improve accurate diagnostic rates and lower mortality rates.
They are also using print innovations to rapidly manufacture customised implants and prosthetics, leading to a reduction in the time patients need to spend in hospital.
---
The majority of higher education institution leaders say that new skills learnt through the use of technologies such as digital fabrication and 3D printing are vital to educational success and preparing students for the graduate job market.
66% say investing in new printing technology is a key way to attract new students and improve satisfaction with their institution and course.
---
The financial services industry is undergoing massive disruption. Across Europe, established banks are switching to a digital-first approach to compete with new challengers and start-ups. 
83% of financial services leaders believe changing customer expectations for paperless interactions and personalised banking will be a challenge for the industry, as such the use of new printing technologies will prove essential in increasing agility and the ability to meet these demands.
---
Battling for customer loyalty, retailers must be quick to anticipate and adapt to changing consumer preferences. 
With 84% of retail business leaders saying customers want shorter delivery times and 74% reporting a growth in the demand for personalised products, new printing technologies offer the most viable solution to drive a competitive advantage. In particular, 3D printing and on-demand print allow retailers to more effectively fulfil orders by bridging the gap between digital and physical objects.
---
Increasing numbers of SMBs are reassessing their relationship with print. 3D printing, and other forms of new print technology, offer the possibility of mitigating many of the obstacles which previously stood in the way of scale and growth. 
Reducing storage costs, reacting to customer demands more quickly and removing supplier and shipping issues, 44% of SMBs are already using 3D printing technology with an extra 30% planning on investing in the next two years.