Tech shortfalls erode company culture in mid-size businesses
Nearly half of European office workers feel their company culture has suffered due to coronavirus restrictions
Ricoh Europe, London, 18 February 2021
– Sub-standard technology experiences during the pandemic have worn down company culture in mid-size businesses, according to new research commissioned by
Ricoh Europe
.
The research delves into the remote working experience of 632 European office workers at firms with between 250 and 999 employees during the coronavirus pandemic. It reveals that employees are feeling the pressure to be online more while working remotely. Yet they are experiencing difficulties staying motivated and miss the sense of workplace camaraderie they experienced in the office.
Clear communication and healthy working relationships are the bedrock of a supportive company culture. However, 42% of employees report their company culture has suffered as teams started working remotely due to coronavirus restrictions. Poor communication technology is taking its toll on collaboration, too. A third (31%) of employees find it difficult to feel motivated and engaged while remote working due to communication and technological problems, while two-thirds (65%) say they miss working with colleagues face-to-face.
Remote working challenges have also impacted employee stress. Nearly a third (30%) of workers say that have felt pressured by their employers to be online more while remote working. Similarly, 31% feel more stressed when working remotely due to external factors, such as family responsibilities.
Workers expect companies to support their need for a personalised working experience, with 67% trusting their company will be more open to flexible working following the pandemic. Some companies have already started to make the office safe for an eventual return: 77% of workers report their employers have put strategies in place to make returning to the office safe after the pandemic has passed. However, only 53% of employees feel they have been regularly consulted by their employer on their feelings and concerns around creating a safe workplace.
Nicola Downing, COO, Ricoh Europe, comments: "2020 was a year of adjustments for everyone and our collective resilience should be applauded. However, that shouldn't stop businesses from continuing to refine and improve the working experience. The focus needs to be on bringing people together in better ways, whether they are working at home or in the office. The right technology makes collaboration and connectivity seamless, bridging the social divide. But in the end, few things can replicate the buzz of working in close proximity with your colleagues. That's why making sure offices are smart and safe is vital. Consulting with employees will also go a long way to creating that all-important positive culture."
|About Ricoh|
Ricoh is a leading provider of integrated digital services and print and imaging solutions designed to support digital transformation of workplaces, workspaces and optimize business performance.
Headquartered in Tokyo, Ricoh's global operation reaches customers in approximately 200 countries and regions, supported by cultivated knowledge, technologies, and organizational capabilities nurtured over its 85-year history. In the financial year ended March 2023, Ricoh Group had worldwide sales of 2,134 billion yen (approx. 16.0 billion USD).
It is Ricoh's mission and vision to empower individuals to find Fulfillment through Work by understanding and transforming how people work so we can unleash their potential and creativity to realize a sustainable future. 
For further press information, please contact: Ricoh Switzerland Ltd.
Tamara Martelli
Regional Communications Manager
Hertistrasse 2
8304 Wallisellen
Phone: +41 44 832 31 89
E-mail: tamara.martelli@ricoh.ch
Website: www.ricoh.ch/en
Join us on Facebook: www.facebook.com/ricohschweiz
Join us on LinkedIn: www.linkedin.com/company/ricoh-schweiz-ag
Follow us on X: https://x.com/ricohschweiz
---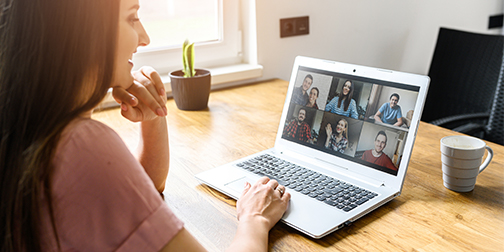 A good company culture helps to promote employee morale. But in the mid-market, tech shortfalls are impacting the employee experience and risking productivity.