Ricoh scoops Buyers Lab award for A4 colour intelligent MFP
London/Wallisellen, 10. Januar 2020 – Ricoh is celebrating another Keypoint Intelligence - Buyers Lab's success having won a BLI Winter Pick award for its new A4 colour intelligent multi-function printer (MFP), the Ricoh IM C300.
Awarded twice a year, BLI Picks acknowledge the office equipment and products that scored highest in Buyers Lab's extensive lab tests over the previous six months. The Ricoh IM C300 was declared the winning device in the category of Outstanding Colour MFP for Mid-Size Workgroups.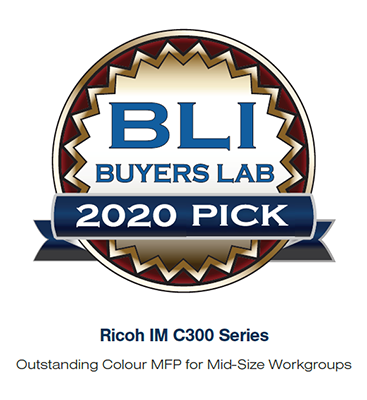 The Ricoh IM C300 is part of a range of four new A4 colour intelligent MFPs, which also includes the Ricoh IM C300F, IM C400F and IM C400SRF. The range is part of Ricoh's Dynamic Workplace Intelligence approach and features Ricoh's Always Current Technology, ensuring the technical capabilities of products evolve in parallel with customer requirements. Each device incorporates Ricoh's Smart Operation Panel, equipped with an upgraded processor that provides faster transitions between applications and a smooth, responsive touch screen. Ricoh service experts can remotely access a device's Smart Operation Panel for fast troubleshooting and perform automatic firmware updates.
Kaitlin Shaw, Senior Editor at Keypoint Intelligence - Buyers Lab, says: "The Ricoh IM C300 series is unsurpassed in the mid-volume colour MFP category thanks to its exceptional usability, along with its impressive performance and feature set. The device is packed with features to help keep busy offices productive. Its large, intuitive touchscreen allows users to select from an assortment of Ricoh smart apps that can simplify workflows and boost productivity even more. Image quality was another highlight, as the tested model produced vibrant colour output. Topping it all off, IT workers will appreciate the unit's robust administrative utilities. All in all, the Ricoh IM C300 series has everything mid-size workgroups could want in a colour MFP.
Olivier Vriesendorp, Vice President of Product Marketing, Ricoh Europe, adds: "What a great way to start the New Year. This award is further recognition of our ongoing commitment, innovation and leadership in the intelligent MFP space. Providing customers with advanced, reliable and industry leading devices is our main priority – it is also a core component to empowering digital workplaces. We look forward to helping our customers evolve further throughout 2020 and beyond."