Ricoh awarded Gold rating by EcoVadis for its sustainability practices
Ricoh, Tokio/Wallisellen, March 9, 2023 – Ricoh Company, Ltd. has been awarded a Gold rating in the sustainability assessment conducted by EcoVadis. This recognition places Ricoh amongst the top 5% of companies assessed in its industry in the context of sustainability performance.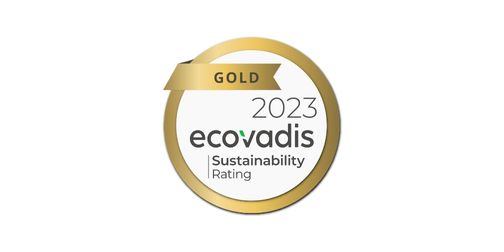 Established in 2007, EcoVadis is the world's most trusted provider of business sustainability ratings focused on corporate Environmental, Social, and Governance (ESG) practices, working to help companies improve their practices through their global supply chains. 
EcoVadis assesses more than 100,000 companies from over 175 countries across 200 business sectors on corporate policies, initiatives and achievements in four key areas: Environment, Labor & Human Rights, Ethics, and Sustainable Procurement. Ricoh's commitment in the areas of Environment and Sustainable Procurement  were highly recognized, the latter receiving the highest score of "Outstanding". Ricoh has received the Gold rating in the assessment for consecutive years since 2014.
In 2019, Ricoh became the first Japan-headquartered company to participate in the Business for Inclusive Growth, which aims to address inequality in workplaces and supply chains. In the same year, it joined the Responsible Business Alliance, which promotes social responsibility in global supply chains.
Ricoh continues to contribute towards supporting the United Nation's Sustainable Development Goals (SDGs) by solving social issues across the business value chain through and working to realize a sustainable society.
Related links
EcoVadis website
Ricoh's Commitment and Recognition
https://www.ricoh.com/about/integrated-report/data/commitment/
Ricoh's Approach to Seven Material Issues and ESG Targets 
|About Ricoh|
Ricoh is a leading provider of integrated digital services and print and imaging solutions designed to support digital transformation of workplaces, workspaces and optimize business performance.
Headquartered in Tokyo, Ricoh's global operation reaches customers in approximately 200 countries and regions, supported by cultivated knowledge, technologies, and organizational capabilities nurtured over its 85-year history. In the financial year ended March 2023, Ricoh Group had worldwide sales of 2,134 billion yen (approx. 16.0 billion USD).
It is Ricoh's mission and vision to empower individuals to find Fulfillment through Work by understanding and transforming how people work so we can unleash their potential and creativity to realize a sustainable future. 
For further press information, please contact: Ricoh Switzerland Ltd.
Tamara Martelli
Regional Communications Manager
Hertistrasse 2
8304 Wallisellen
Phone: +41 44 832 31 89
E-mail: tamara.martelli@ricoh.ch
Website: www.ricoh.ch/en
Join us on Facebook: www.facebook.com/ricohschweiz
Join us on LinkedIn: www.linkedin.com/company/ricoh-schweiz-ag
Follow us on X: https://x.com/ricohschweiz