Ricoh and TIGER announce breakthrough laser sintering partnership to support AM innovation
London/Wallisellen, 09 December 2019 – Manufacturing and technology specialist Ricoh and 3D material solutions innovator TIGER have announced a landmark partnership to bring to market thermoset materials for selective laser sintering. The partnership combines TIGER's specialist portfolio, which includes TIGITAL Inks and Drylac® & Wetlac® surface coatings, with Ricoh's hardware expertise to provide an end-to-end Additive Manufacturing (AM) service.
The partnership supports AM innovators in industries such as electrical, rail, automotive and aerospace to rapidly meet demand for functional and spare parts. Main benefits include exceptional mechanical, thermal, electrical and chemical properties at an economic cost.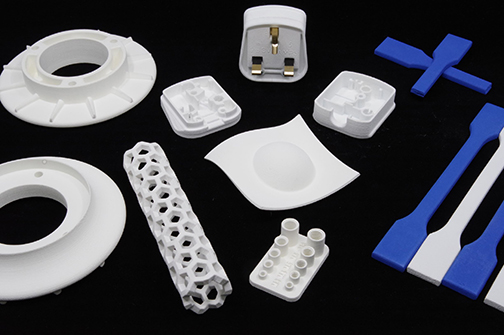 Thermoset materials remain in a permanent solid state, demonstrating outstanding isotropic performance. They can be used to create flame retardant parts that, unlike thermoplastics, offer low smoke formation, no polymer melt-dripping and self-extinguishing behaviour.
The companies will collaborate on materials, processing and application development to support industry innovators in a rapidly changing market. The move further increases the capabilities of Ricoh's 3D printing services and range of in-house technologies, including Selective Laser Sintering. It also reaffirms Ricoh's ability to provide a one-stop shop for Additive Manufacturing (AM) needs – from design to prototype to production. This is supported by a complementary range of team specialisms including material testing, design consultation, metrology and post-processing (such as powder coating of parts).
To celebrate the launch of this innovative partnership, Ricoh and TIGER are working together to host a series of 3D workshops in 2020 for beginners and advanced AM users. The sessions will offer a complete overview on unlocking the potential of AM, with a focus on thermosets – from design and machine competence; to material processing, coating and digital print. Places are limited for these sessions. To register your interest email 3Devents@ricoh-rpl.com.
Colin Weaver, Managing Director at Ricoh UK Products Limited, said: "This partnership will enable our customers to realise the benefits of additive manufacturing for end-use parts; reducing their development cycles and achieving more efficient production. We are certain that companies adopting thermoset technology will benefit greatly from this collaboration, which combines our 80 years manufacturing experience with the material expertise of TIGER."
Clemens Steiner, CEO of TIGER, commented: "Under the brand name Chematronix®, we offer complete solutions uniting the fields of chemistry and mechatronics. Together with Ricoh we'll bring together the best of these two fields under one roof – for 3D printing results of the highest quality. This collaboration and series of launch workshops will deliver an in-depth understanding of smarter design and processes, in order to maximise these highly intelligent materials – taking 3D SLS print into the next evolutionary stage: beyond rapid prototyping to small production and ultra-high performance hybrid parts."