Ricoh acquires 100% of the shares in LAKE SOLUTIONS AG
London/Wallisellen, 16 May 2019 – Global technology manufacturer Ricoh Co. Ltd. acquires LAKE SOLUTIONS AG. The former owner and management board of LAKE SOLUTIONS will retain their existing positions within the company.  The organisation, structure and name of LAKE SOLUTIONS will also remain unchanged. Likewise, the business strategy pursued by LAKE SOLUTIONS hitherto will continue to be implemented.
Ricoh has announced the acquisition of 100% of the shares in Wallisellen-based LAKE SOLUTIONS AG. This step will enable Ricoh to extend its activities in the IT service business even more vigorously in Switzerland. LAKE SOLUTIONS will thus become part of the international Ricoh IT Services network that generates 4.3 billion Swiss francs worldwide, approximately 20% of Group revenues. The move is thus a logical step toward implementing Ricoh's strategy of becoming a one-stop-specialist in the fields of Managed Print Services (MPS), IT Services (ITS) and Enterprise Content Management (ECM).
Walter Borgia, CEO LAKE SOLUTIONS, says, "Thanks to the merger with Ricoh, a strong and established company in the technology business, we will be able to further develop our current strategy and accelerate its implementation. As there is no relevant overlapping in our service offering, there is no need to first start a demanding internal rationalisation process; instead we can focus on leveraging market synergies straight away. From our perspective, it is 'the perfect match' for all existing partnerships with customers and manufacturers and of course for LAKE SOLUTIONS and its workforce."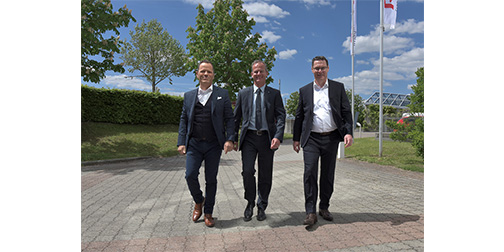 Daniel Tschudi, Managing Director, Ricoh Switzerland Ltd, adds: "The incorporation of LAKE SOLUTIONS into the Ricoh family means our customers will benefit from a broader portfolio of IT services that builds upon LAKE SOLUTIONS' exceptional infrastructure and competencies. In addition, existing customers of LAKE SOLUTIONS will profit from access to Ricoh's global network and a wide range of market-leading products and services. We very much look forward to working together and are very excited about the opportunities this will create for our customers."
To give LAKE SOLUTIONS the greatest possible support with the continued implementation of their existing strategy, David Mills, CEO Ricoh Europe, Nicola Downing, COO Ricoh Europe and Alberto Mariani, Senior Vice President Ricoh Europe, will join the management board. Daniel Tschudi, Managing Director Ricoh Switzerland will complete the management board as president and will provide the link to the local organisation and access to Ricoh's Swiss customers. In April 2020 LAKE SOLUTIONS will relocate to a dedicated area of its own within the Ricoh building in Wallisellen. Under the same roof it should be possible to leverage the synergies of a joint market expansion even more actively. In particular, customers of both companies will benefit in the business areas Data Centre & Infrastructure, Workplace & Mobility, Business Intelligence, Application Services and Print Server Management.
Enquiries:
Ricoh Schweiz AG                                                     LAKE SOLUTIONS AG    
Rolf Kälin, Dir. Marketing & Communication          Walter Borgia, CEO
Hertistrasse 2                                                             Neugutstrasse 16
8304 Wallisellen                                                        8304 Wallisellen
rolf.kaelin@ricoh.ch
walter.borgia@lake-solutions.ch
Telephone: 079 237 35 03                                         Telephone: 079 352 45 65