LG and Ricoh sign unique European partnership agreement
London/Wallisellen, 09 April 2019 – Leading technology companies LG and Ricoh have announced a new European partnership. Effective as of April 1, 2019, the agreement strengthens LG's longstanding relationship with Ricoh, a key reseller of LG display devices. The partnership was mutually agreed to during Integrated Systems Europe. It will provide companies of all sizes and sectors with access to crystal-clear displays for everything from smart meeting spaces to digital signage solutions through a single trusted partner with global resources.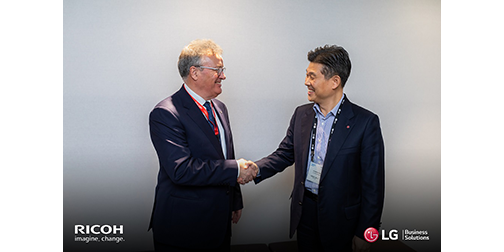 Ricoh offers LG displays across its Communications Services portfolio, including market-leading technologies from LG such as UHD IPS displays and other unique display solutions. Recently, a team of Ricoh Europe Communication Services specialists was certified by LG for working with its self-illuminating OLED technology. The new conjunction of LG's extensive R&D and Ricoh's design, delivery and support capabilities will ensure that customers can easily use the most advanced communications technology.
David Mills, CEO of Ricoh Europe, says, "This exciting agreement further strengthens the longstanding relationship between Ricoh and LG while reflecting our common drive for innovation. By incorporating LG technology within our Communication Services offering, we provide our customers with access to a growing portfolio of innovative solutions and technical expertise. Combining our international capabilities with LG's cutting-edge technology is another way we are empowering digital workplaces."
Kyongho Kim, President of LG Business Solutions Europe, concurs. "We're proud to collaborate with such a reliable and conscientious partner. Together, we can offer customers the most innovative solutions for all of their communications needs. The future promises to bring great advances, both for the partnership and for our customers."