Greater production versatility enabled by extended gamut Ricoh Pro L5100e Series
Greater production versatility enabled by extended gamut Ricoh Pro L5100e Series
London/Wallisellen, 22 Oktober 2020 – Ricoh has opened up an array of print production opportunities for Print Service Providers (PSPs) and graphic arts display specialists. The option of orange and green inks for its Ricoh Pro L5160e and Ricoh Pro L5130e extended gamut latex large format printers allows the accurate reproduction of a wider range of Pantone and brand colours.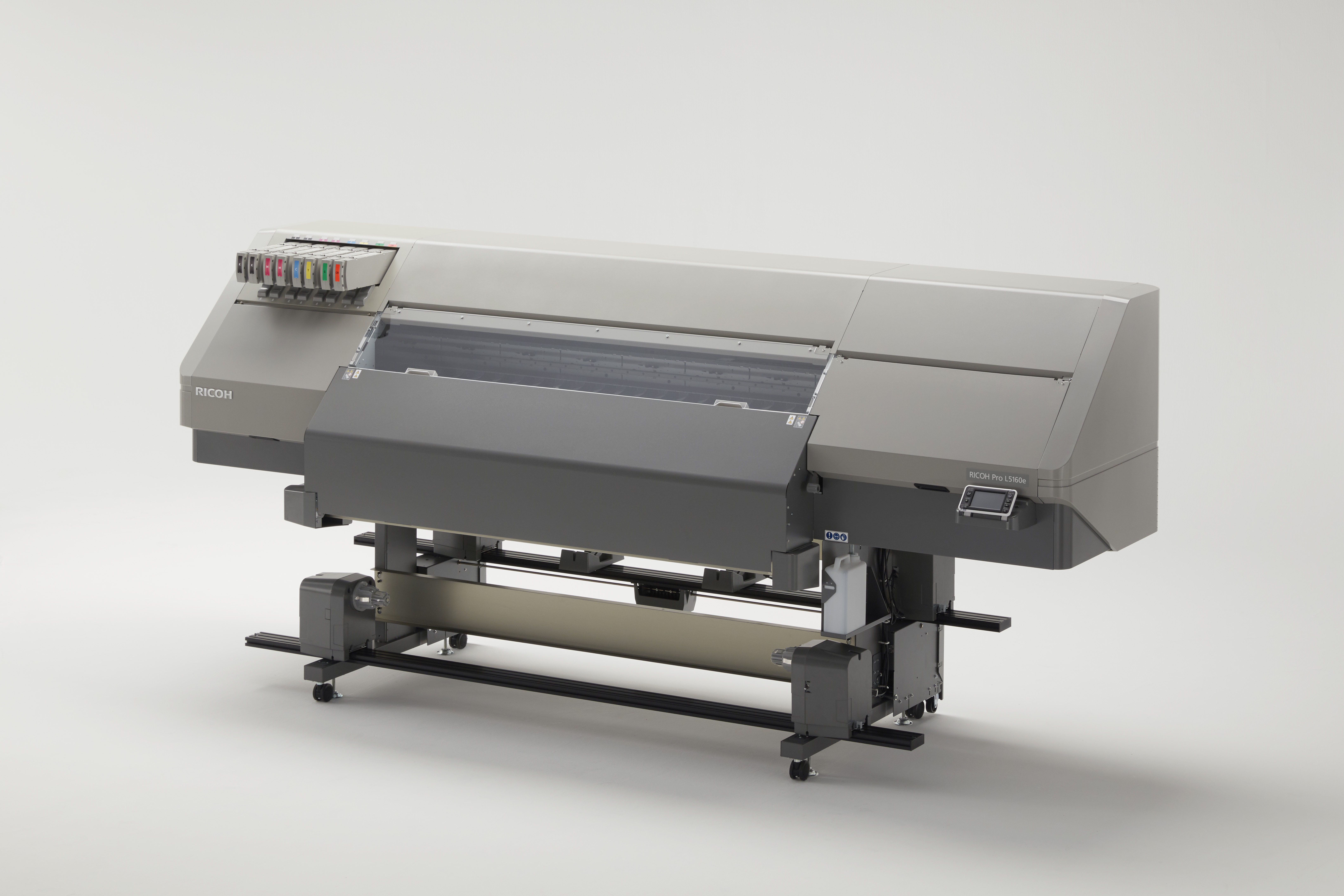 Based on Ricoh's market leading inkjet head and ink technology expertise, the portfolio additions are an evolution from the successful Ricoh Pro L5160 and Ricoh Pro L5130 latex large format printers.
The two new models add green and orange ink to deliver a significantly extended colour gamut compared to existing technology. Three staggered Ricoh print heads achieve class leading print speeds of 46.7 square metres per hour on outdoor high speed four colour mode and 25 sq m per hour on indoor standard four colour mode. As well as running the expanded gamut inks, print operations can also run double CMYK for increased productivity, and CMYK and white for transfer materials, metallics and dark substrates.
The new ink colours combined with Ricoh's leading inkjet head technology deliver a number of key benefits:
Wider colour gamut to reproduce Pantone colours and match brand colours.
Outstanding application flexibility with high productivity in four colour mode.
Auto cleaning function to enable maximum uptime.
Low print temperature to extend media range capability.
Eco-friendly Greenguard certified latex ink for enhanced sustainability.
Low energy consumption for cost effective and sustainable production.
Efficient operation is supported by ColorGATE Productionserver Select. The market leading RIP-software solution is tailored to the demands of large format printing. Users benefit from consistent and predictable colour output and spot colour support for client satisfaction. As well as from container and tiling functions and process automation. The Adobe PDF Print Engine is key to the products' superior performance.
Graham Kennedy, Director, Industrial Print, Ricoh Europe, says: "The ability of the orange and green inks to allow operations to accurately produce Pantone, brand colours and skin tones, enables high quality production versatility on a wide range of indoor and outdoor applications. These new models support PSPs in the expansion of their creative services and offer a new level of production flexibility for display specialists."
The Ricoh Pro L5100e series will be available from December 1 in Europe.
|About Ricoh|
Ricoh is a leading provider of integrated digital services and print and imaging solutions designed to support digital transformation of workplaces, workspaces and optimize business performance.
Headquartered in Tokyo, Ricoh's global operation reaches customers in approximately 200 countries and regions, supported by cultivated knowledge, technologies, and organizational capabilities nurtured over its 85-year history. In the financial year ended March 2023, Ricoh Group had worldwide sales of 2,134 billion yen (approx. 16.0 billion USD).
It is Ricoh's mission and vision to empower individuals to find Fulfillment through Work by understanding and transforming how people work so we can unleash their potential and creativity to realize a sustainable future. 
For further press information, please contact: Ricoh Switzerland Ltd.
Tamara Martelli
Regional Communications Manager
Hertistrasse 2
8304 Wallisellen
Phone: +41 44 832 31 89
E-mail: tamara.martelli@ricoh.ch
Website: www.ricoh.ch/en
Join us on Facebook: www.facebook.com/ricohschweiz
Join us on LinkedIn: www.linkedin.com/company/ricoh-schweiz-ag
Follow us on X: https://x.com/ricohschweiz