Our commitment to the UN Sustainable Development Goals
Launched by the United Nations in 2015, the
Sustainable Development Goals
(SDGs) are 17 global goals which address key social issues.
These goals are a call to action for all countries and business to join forces and address some the world's most pressing social and environmental issues. The SDGs were agreed by all 193 UN member states as part of the 2030 world agenda for Sustainability Development.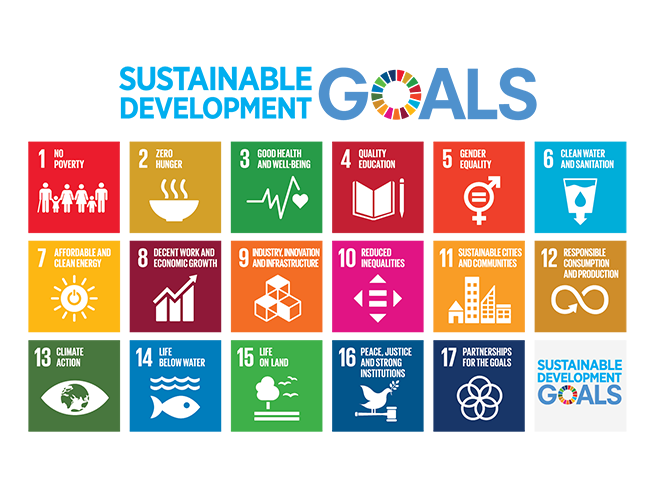 Resolving social issues through business
We carried out a comprehensive materiality assessment to establish which sustainability issues represented risks and/or opportunities for our business. We regularly review our analysis and ESG targets to align with our Management Plan.
Process of Materiality Analysis

As a result, we have identified seven priority issues:
1. Creativity from work: we will help our customers enhance their "creativity from work" by providing them with digital technologies and services.
2. Quality of Life Enhancement: we will provide solutions in the fields of healthcare and education by harnessing our technologies and improve the quality of people's lives through continual support for community development.
3. Zero-Carbon Society: we will strive to achieve zero emissions from our own business activities through comprehensive energy conservation activities and the use of renewable energy.
4. Circular Economy: we will contribute to realising a circular economy by promoting the collection and recycling of used products and the usage of recycled resources globally.
5. Stakeholder engagement: we will improve collaboration with our business partners and create win-win relationships to benefit our company, business partners and society.
6. Open innovation: we will foster open innovation with universities, research institutes and business partners to create new value and solve social issues through efficient research and technological development.
7. Diversity & Inclusion: we are committed to creating a diverse and inclusive workplace where employees feel valued at work.